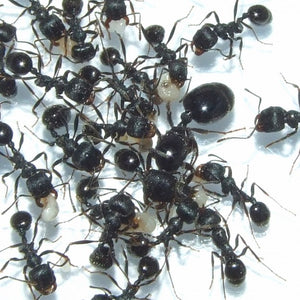 Messor Aciculatus (Harvester Ant)
Very interesting larger species with are Seed eaters
• Humidity requirements: 50 – 60%
• Temperature requirements: 18 – 26 °C
• Hibernation: November-February at 15°C
• Suggested housing: Wakooshi Ant Farm Modules, Acrylic, Ytong, soil.
• Nutrition: They mainly eat seeds which they grind down to make ant bread. Sugars from honey or sugar water. Protein from insect sources.
• Colony size: ~10,000
• Queen size: 10 mm
• Worker size: 4-5 mm
• Monogyne/polygyne: P
olygyne
(Can be multiple Queen per colony)
This species collects all kinds of small seeds and chews them into ant bread. Most of their water-requirements are covered through seeds and insects. Honey water is only accepted when there is a lack of moisture. 
Messor aciculatus
 tends to drown in open water so it is necessary to cover water places with little stones or cotton.
Stock updates
To see what species will be arriving soon please check our