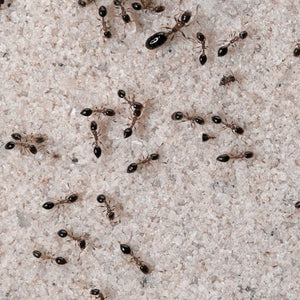 Monomorium Floricola
 (Flower A
nt
)
Very tiny but hardy species.
• Humidity requirements: 30–50%
• Temperature requirements: 15–28 °C
• Hibernation: October-March at 10°C
• Suggested housing: Extremely small species. very well sealed escape prevention is needed.
• Nutrition: Sugars from honey or sugar water.
• Colony size: ~2000
• Queen size: 2 mm
• Worker size: 1 mm
• Monogyne/polygyne: P
olygyne
(Can be multiple Queens per colony)
Monomorium Floricola, or the Flower ant is commonly found through much of Europe. A very small species that needs a good escape prevention.
Stock updates
To see what species will be arriving soon please check our