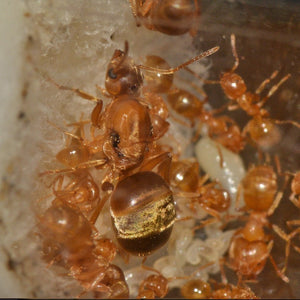 Pseudolasius Cibdelus
• Humidity requirements: 60–80%
• Temperature requirements: 21–28 °C
• Hibernation: None
• Suggested housing: Wakooshi Ant Farm Modules, Acrylic, Ytong, soil.
• Nutrition: Sugars from honey or sugar water. Protein from insect sources such as fruit flies
• Colony size: 3,000~
• Queen size: 8 mm
• Worker size: 2–6 mm
• Monogyne/polygyne: Polygyne (Multiple Queens per colony)
Looks similar to Lasius niger. The workers are polymorphic, so there are minor and major workers.
Stock updates
To see what species will be arriving soon please check our