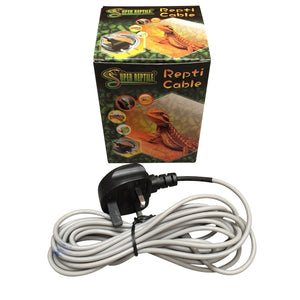 High quality reptile heat cables are available in a choice of 5 sizes
(3m, 3.5m, 6m, 9m and 12m).
Please select the required model and plug type from the drop down menu above when ordering.
These durable heat cables are waterproof, and very flexible, allowing you to concentrate the heat where you need it. Cables are 4mm Thickness.
Please see the specification table below for the specification of each of model.
Please note packaging may vary between size
Power

Length

15w

3 Metres (4mm wide)

25w

50w

80w

100w

12 Metres 

(4mm wide)