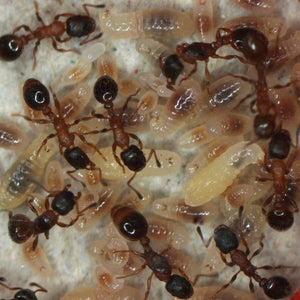 Leptothorax Acervorum
A lovely species. non aggressive and can be housed together with other non aggressive species. 
Similar to her sibling species Temnothorax nylanderi but slightly larger.
• Humidity requirements: 40–60%
• Temperature requirements: 21–24 °C
• Hibernation: October-March at 5-8°C
• Suggested housing: Very small ants that require high level escape proofing.
• Nutrition: Sugars from honey or sugar water. Protein from insect sources such as fruit flies
• Colony size: 50-200
• Queen size: 5-7 mm
• Worker size: 3-4 mm
• Monogyne/polygyne:
Polygyne (Can be multiple Queens per colony)
Leptothorax acervorum is a non-aggressive ant species which avoids most combats situations with other ants. The workers forage singly, predating small insects or scavenging insect corpses. They are suitable to house them with other non aggressive ant species ants.
Stock updates
To see what species will be arriving soon please check our