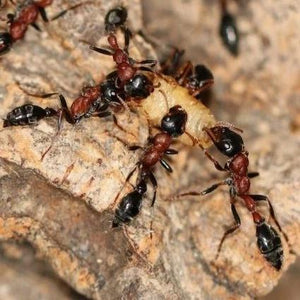 Tetraponera Rufonigra
• Humidity requirements: 50-80%
• Temperature requirements: 24-28°C
• Hibernation: None
• Suggested housing: Wakooshi Ant Farm Modules, Acrylic, Ytong, Soil.
• Nutrition: Protein from insect sources such as Roaches/Crickets/Mealworms. High preference to live foods.
• Colony size: ~500
• Queen size: 12-15 mm
• Worker size: 11-13
 m
m
• Monogyne/polygyne:
Monogyne 
(One Queen per colony)
Distinctly narrow and slim ant species, seems very delicately. They are high adapted to arboreal living. They have a potent sting which they use easily against intruders.
Stock updates
To see what species will be arriving soon please check our